Astrolabes in Arts
Astrolabes and paintings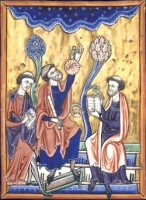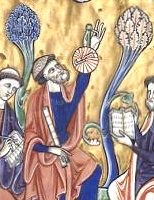 Three scientists using an astrolabe
13th century
extract from Psautier de Saint Louis et de Blanche de Castille, Bibliothèque Nationale de France.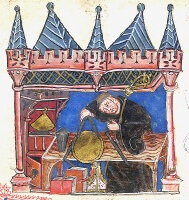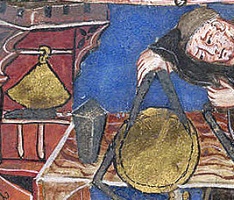 Representation of the mathematician and clock maker Richard de Wallingford
1292-1336
Abbot of Saint Albans, where an astrolabe and a quadrant can be seen. He is known for the design of astronomical clocks. Extract from the book History of abbots of St Albans, British Library.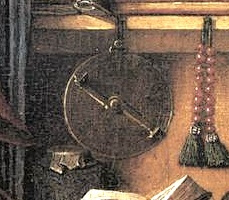 Saint Jerome in his study by Jan van Eyck
1435
The back of an astrolabe can be seen on the wall behind him. The alidade is visible and the shadow square can be identified.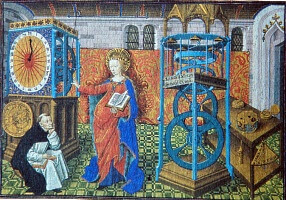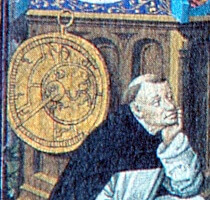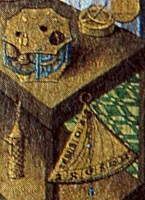 Horologium Sapientiae
15th century.
Miniature from 1450 taken from a copy of "Horologium Sapientiae" written around 1330 by Constance Henrich Seuse, Bibliothèque Royale Albert 1er, Bruxelles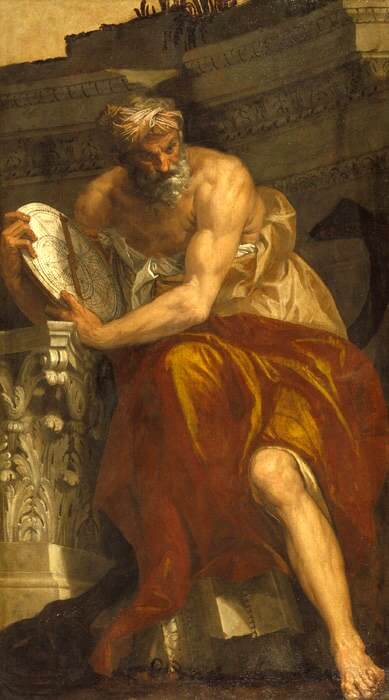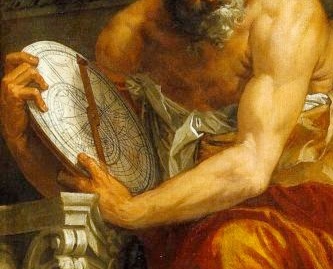 Allegory of navigation with astrolabe
by Paolo Veronese
1565
Ptolemy holds a planispheric astrolabe in his arms. This painting is associated with another allegory of navigation with staff-cross (an instrument to measure angles).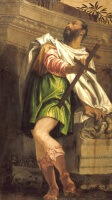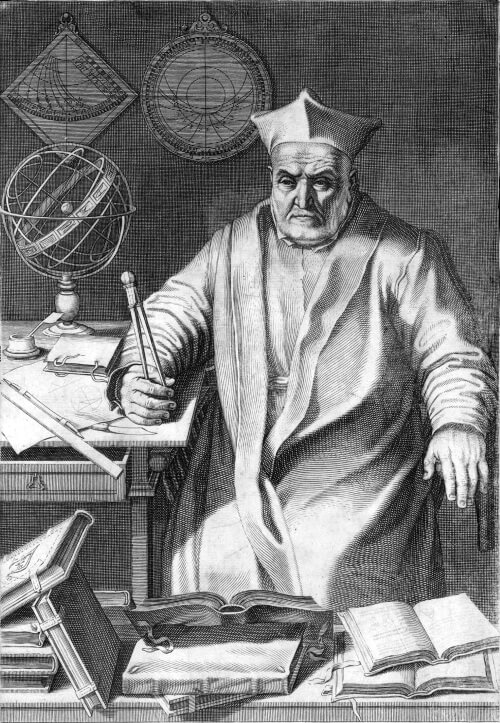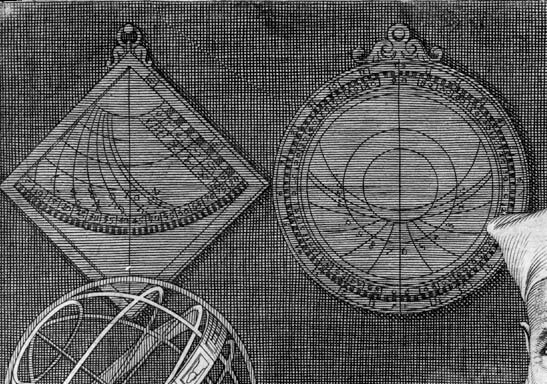 Engraving of the astronomer Christophoris Clavius
16th century
A quadrant astrolabe and an astrolabe without rete can be seen in the back.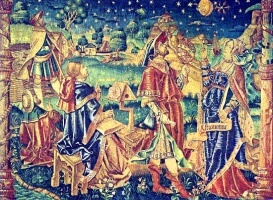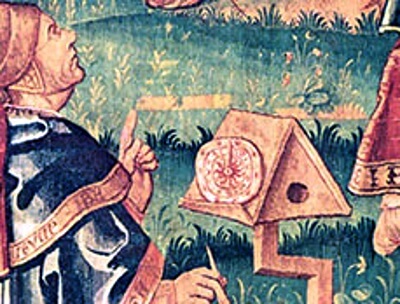 Tapestry named Astronomy
16th century
kept in the Gothenburg museum in Sweden.
An astrolabe is laying on a table in front of an astronomer. It illustrated the Patrick Moore's book Watchers of the stars.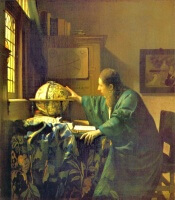 The astronomer by Jan Vermeer
1668
shows an astronomer raising his arm on a celestial sphere. In front of him, Adriaan Metius' book on Astronomy and Geometry, open at the beginning of Book III which is about astrolabes. Laying on clothes in front of the sphere, a large planispheric astrolabe is partly visible.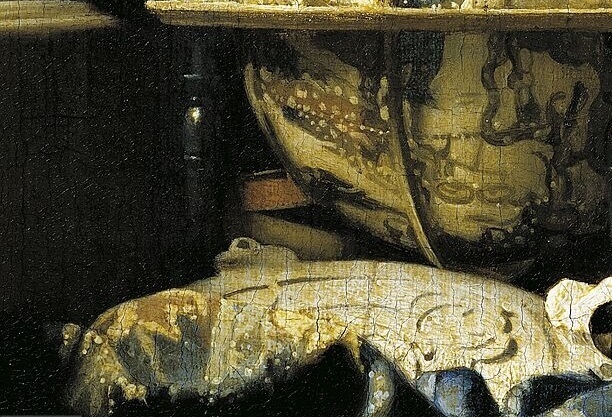 Astrolabes and Sculpture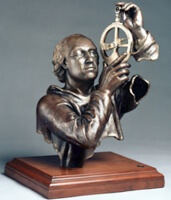 Bust of Christopher Colombus measuring the altitude of a celestial body with a mariner's astrolabe.
Bronze by Don F. Wiegand (1991).
Astrolabes and Stamps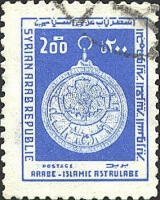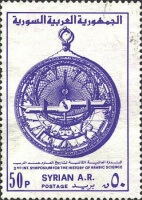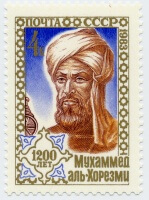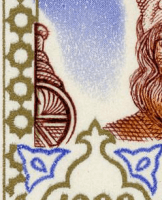 A Russian stamp of 1983 showing Ptolemy. An astrolabe is partly visible on the edge.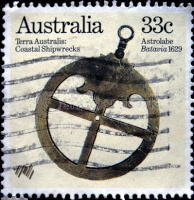 Australian stamp of 33 cents (2000).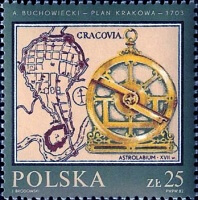 Polish stamp with a mariner's astrolabe.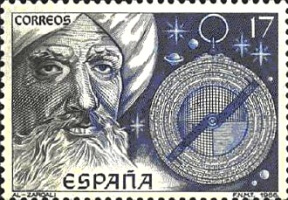 Spanish stamp with the astronomer Al Zarqali, famous inventor of the Univesal Astrolabe.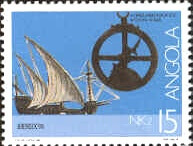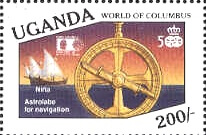 Two stamps showing mariner's astrolabes, from Angola (left) and Uganda (right).
Astrolabes and Mint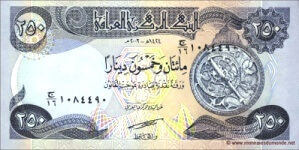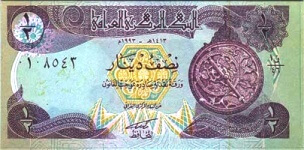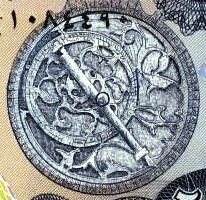 Two bank notes from Irak showing an astrolabe.
A 250 dinar bank note from 2003 (left) and a 0.50 dinar bank note from 1993 (right).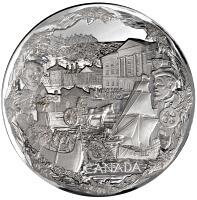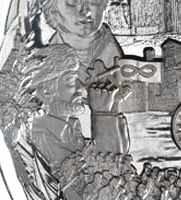 250 Canadian dollar coins printed for the 2010 Olympic Games of Vancouvert. A mariner's astrolabe can be seen on the right and a sextan on the left.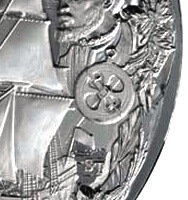 Astrolabes and Horology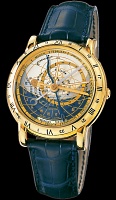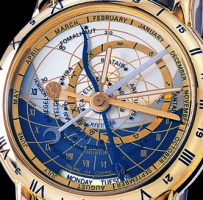 Automatic watch Ulysse Nardin Astrolabium.
Gives the position of Sun, Moon and stars, sunrise and sunset hours, dawn and twilight, moonphases, Sun and Moon eclipses, date and day of the week.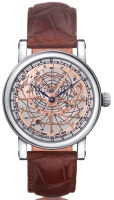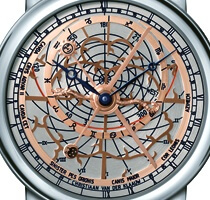 CK Astrolabium by Christiaan van der Klaauw.
Collection of nine automatic watches with astrolabe dial.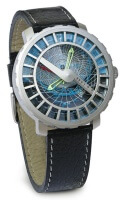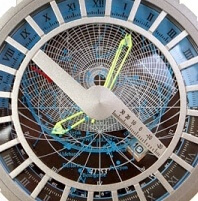 Gadget watch with an astrolabe dial.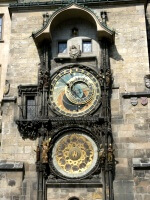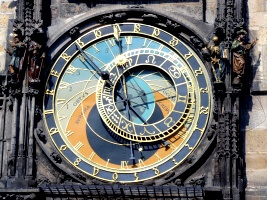 Astronomical clock of Praha built in 1410.
The clock runs like an astrolabe.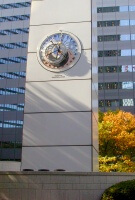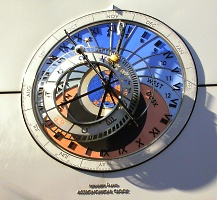 Astronomical clock with astrolabe dial in Shinjuku district, Tokyo, Japan.
Artisan astrolabes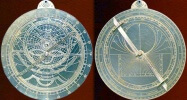 Brigitte Alix
Hand-made planispheric or mariner's astrolabes in brass or wood.
www.astrolabes.fr (in French)


Martin Brunold
Hand-made astrolabes in brass, from ancient models.
www.astrolabe.ch (in German)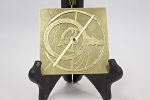 Pierre Paquette
Astrolabes and ancient instruments.
Continue with next page: » Bibliography on Astrolabes
---