Le cadran solaire du Forum des Halles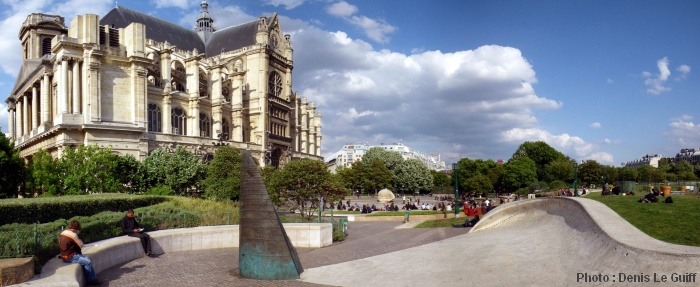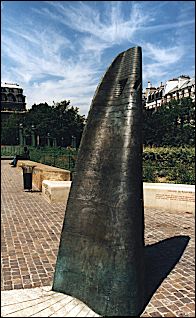 Monolithe servant de point d'entrée aux rayons du soleil The slit in which light rays enter the monolith
Au pied de l'église Saint-Eustache, dans le jardin du Forum des Halles, on trouve un cadran solaire moderne. C'est un cadran à fibres optiques, inventé par le mathématicien Dandrel et réalisé par le sculpteur Henri Miller. Le soleil pénètre par une fente verticale, sur un socle de 2 mètres de hauteur, puis va frapper l'une des fibres placées horizontalement. La lumière est ensuite acheminée par la fibre vers un point lumineux gradué, encastré dans un muret en forme de vague, faisant face au socle récepteur. On lit l'heure en repérant le ou les point(s) lumineux.
In the garden at the foot of the Saint-Eustache church, one can find a modern sundial. It is a sundial made with fiber optics. It was invented by the mathematician Dandrel and realized by the sculptor Henri Miller. The sun penetrates a vertical slit on a base which is about 2 meters high, and then the light hits one of the horizontally placed fibers. The light is subsequently dispersed by the fiber toward a point which is gradually lit and embedded in vague form in a low wall which was made to face the base receiver. One can read the hour in reference to where the point(s) light up.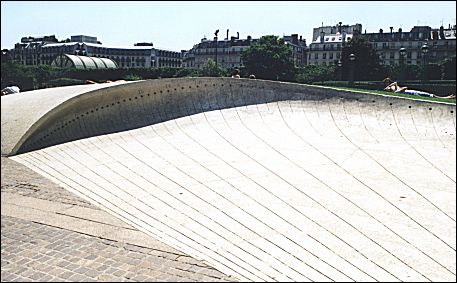 La vague abrite les points marquant les heures lorsqu'ils sont illuminés de l'intérieur par les fibres optiques.
The wave contains points that are illuminated from the inside by the fiber optics.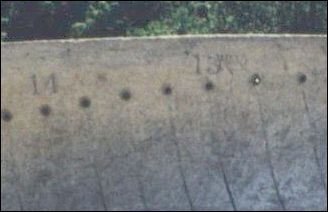 Détail où l'on voit le point éclairé donnant l'heure : 12 h 45 min.
Detailled view of the illuminated point giving the hour: 12 h 45 min.
Ce cadran est situé dans le jardin du Forum des Halles, place René Cassin, dans le 1er arrondissement de Paris. Il porte la référence n°7500107 dans le catalogue de la SAF.
---