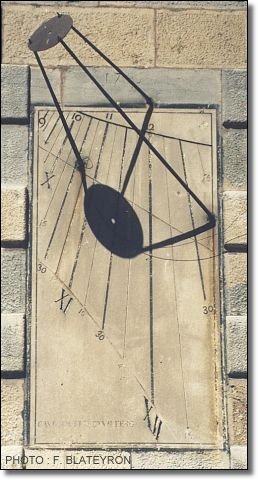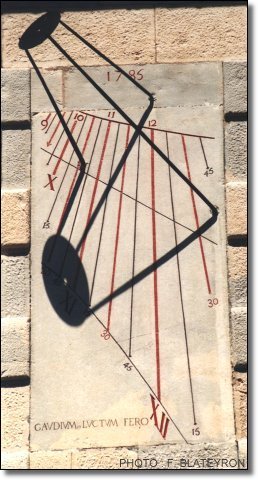 Méridienne déclinante / The declining meridian sundial
A gauche, la version avant restauration, à droite, la version restaurée au printemps 1998
On the left, before restoration, on the right after restoration in 1998
Située en plein centre de Besançon, près de la place Saint-Pierre, cette méridienne fait face au palais de Justice. Elle est en fait sur un mur d'un bâtiment municipal. Cette méridienne est en fait un cadran vertical déclinant du matin. La ligne verticale est la ligne de midi local. Les heures sont graduées en chiffres romains en bas (X à XII) et en chiffres arabes en haut (9 à 12). De plus petits chiffres graduent les quarts d'heure (15, 30 45). Le style est un disque percé, supporté par trois branches. L'heure est donc donnée, non pas par l'ombre, mais par le point lumineux au centre du disque sombre. Le cadran a été restauré dans le cadre du ravallement des façades de l'hôtel de ville et du palais de justice. Ces bâtiments sont désormais superbement mis en valeur. La méridienne elle aussi bénéficie d'une meilleure visibilité, mais en étudiant de près les détails, on découvre que la restauration d'écarte parfois un peu du tracé précédent...
This south facing sundial in the centre of Besançon near place Saint-Pierre is facing the palais de Justice. It is situated on one of the walls of a municipal building. It is in fact a vertical declining sundial showing the morning hours. The vertical line shows the local noon. The hours are shown by roman numerals below (X to XII) and arabic numerals above (9 to 12). The smaller numerals show the quarter hours (15, 30 and 45). The style is a disc with a hole, supported by three legs. The hour is shown not by the shadow of the disc but by the luminous dot in the centre of its dark shadow. The sundial was restored in the process when the front of the hôtel de ville and the palais de justice were given a face lift. These buildings are now shown to their full splendid advantage. The sundial has gained much greater visibility, but closer scrutiny of the details shows that the restoration work has sometimes deviated slightly from the original lines.
La date est gravée dans la pierre au dessus du cadran : 1785. Le livre "L'heure au Soleil *" date cette méridienne de 1786. Le cadran restauré indique 1785... la restauration est-elle fidèle ? les auteurs du livre avaient-ils une source fiable ? La date exacte n'est peut-être pas connue avec certitude. Sur la photo de gauche, il est difficile de distinguer si la date se termine par 5 ou 6.
The date carved in the stone above the sundial is 1785. The book "L'heure au Soleil *" dates this sundial to 1786. The restored sundial shows 1785... Was the restoration work right? Did the authors of the book have a better source of information? Perhaps the true date will never be known for certain. As can be seen on the photo on the left it is difficult to make out if the last figure of the date is 5 or 6.
La devise est peinte en bas à gauche de la méridienne. Elle était très dégradée et difficile à lire avant sa restauration. C'est une devise latine appropriée au lieu où l'on rend la justice : GAUDIUM ET LUCTUM FERO, c'est-à-dire "J'apporte la joie et la peine". Le restaurateur s'est écarté de la graphie précédente pour la devise. Les lettres sont plus grosses et plus espacées. La fin de la devise touche maintenant presque le chiffre romain XII. On remarque également que le "ET" est désormais tracé en petites capitales, alors que sur le cadran non restauré, tous les mots ont la même hauteur.
The motto is painted low down on the left. It was very worn and difficult to read before the restoration work. It's a Latin motto fit for a place were justice is metered out: GAUDIUM ET LUCTUM FERO, which means "I bring joy and sadness". The restoration work has deviated from the original written form of the motto. The letters are bigger and further apart. The end of the motto is now nearly touching the roman numeral XII. Also the word "ET" is now written with smaller capital letters, whereas on the unrestored sundial all the letters were of the same height.
La restauration de ce cadran permet néanmoins de mieux lire son tracé, les lignes sont nettes et la numérotation des quarts d'heure se voit parfaitement. La restauration est fidèle au tracé des lignes et il serait intéressant de connaître les raisons des choix du restaurateur quant à la date et la devise. On remarque enfin que le nouveau cadran ne reprend pas l'encadrement peint visible sur l'image de gauche du cadran avant restauration, ni les couleurs des lignes (rouges maintenant au lieu de noires).
Restoration of the sundial has nevertheless made it much easier to read, the lines are clear and the quarter hours are perfectly visible. The restoration work follows the lines accurately. It would be interesting to know how the restorer chose to restore the date and the motto as they are. It is also noticeable that the frame of the new sundial doesn't follow the painted framework visible on the unrestored sundial on the left hand photo, neither are the colour of the lines the same (red instead of black).
* "L'heure au Soleil, cadrans solaires en Franche-Comté" de F. Suagher, P. Perroud et J.P. Marchand, Editions Cêtre, ISBN 2-901040-95-8
---