Ce calvaire un peu particulier est daté de 1583 mais a été gravé en 1874 par Eugène Chauvin. Il comporte deux cadrans solaires et de nombreuses inscriptions astronomiques gravées.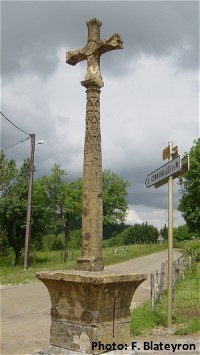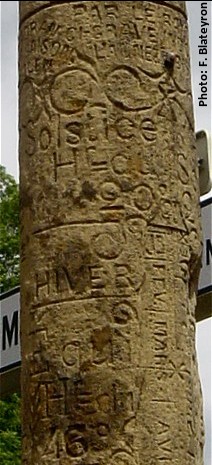 Haut de la colonne.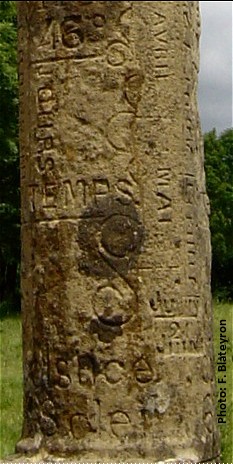 Bas de la colonne.
This wayside cross is quite unusual. It is dated 1583 but was engraved with astronomical symbols in 1874 by Eugene Chauvin. It offers two sundials and plenty of astronomical signs.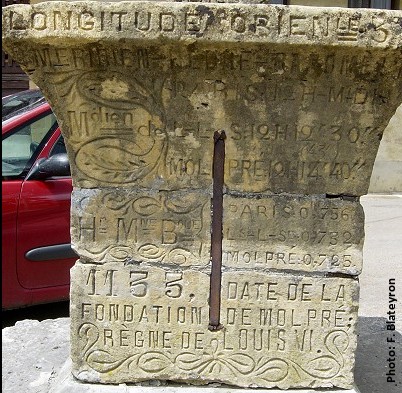 Face sud-est. Les inscriptions expliquent la correction de longitude à appliquer à la lecture du cadran.
The South-East side explains the longitude correction to apply when reading the sundial.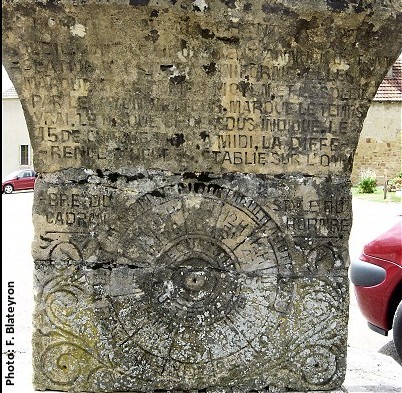 Face nord-est. Le disque donne l'équation du temps en fonction de la date. Le texte au dessus en explique le fonctionnement.
The North-East side give the equation of time in function of the date. A text above explains how to use it.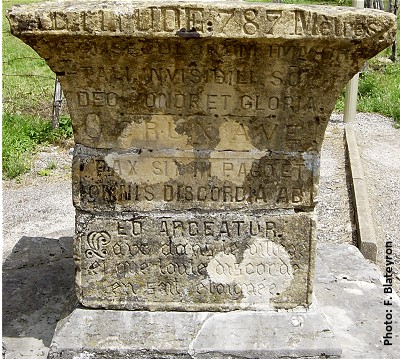 Face sud-ouest. Comporte des textes en français et en latin en faveur de la paix dans le village.
The South-West side contains texts in French and Latin, in favour of peace in the village.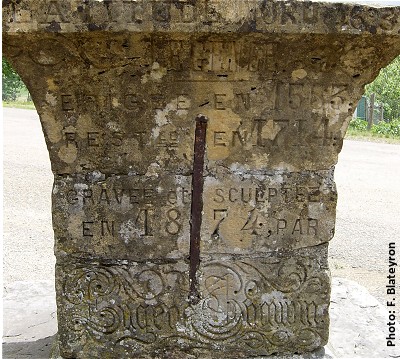 Face nord-ouest. Donne les dates d'érection et de gravure du calvaire. Le nom de l'auteur des gravures est noté en bas.
The North-West side give the date of installation of the column and its engraving, and provide the name of the author.
Des schémas détaillés du calvaire et de ses inscriptions peuvent être consultés dans le livre L'heure au Soleil, cadrans solaires en Franche-Comté de F. Suagher, P. Perroud et J.P. Marchand, Editions Cêtre, ISBN 2-901040-95-8.
---